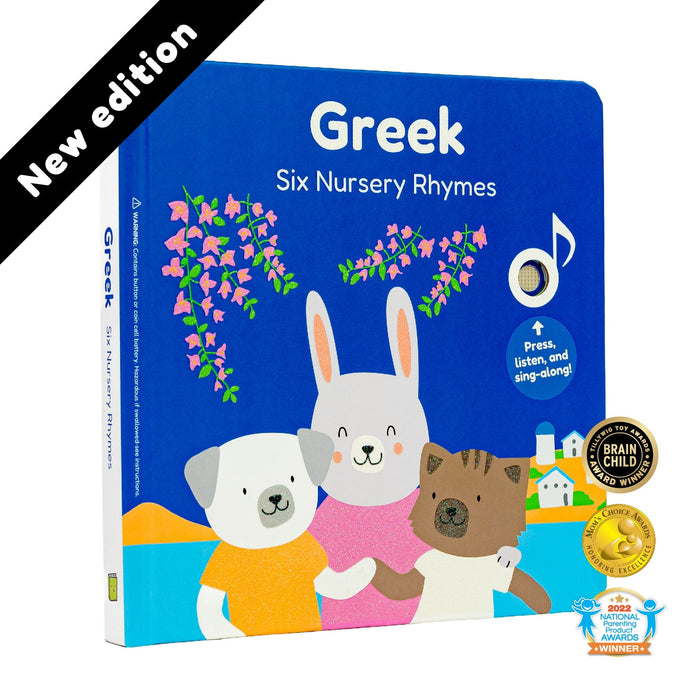 Greek Nursery Rhymes
Original price
$25.00
-
Original price
$25.00
🚚 Free US* Shipping on $75+ orders
📖 Description
Exposing young minds to different languages offers a wealth of enriching benefits. This soundbook features six nursery rhymes in Greek, along with matching English lyrics. Tune into a new culture with these nursery songs: Ah! Kounelaki, Feggaráki mou labró, Mia oraía petaloúda, Sfaíra, Ítan éna mikró karávi, Yíro yíro óloi.
📚 Details and specs

15 seconds of music on each page
Text matching illustration and music
Easy to press button even for babies
Safe and sturdy, perfect for little hands
Montessori-inspired design


Inside the book, you will find 1 Sound Button on every page, 15 Seconds of Music, Charming Illustrations, Song Lyrics, and Lots of Fun!

Our Sound book collection is ideal for ages 0 to 5.

It's hardback cover, weight and size are ideal for little hands: 8 x 8 x 1 inches and 1 lb.

🔋 Batteries

All books come with batteries included.

To replace them, you'll need : CR2032 batteries.

To find out how to change your batteries check out this extremely cute video!
🚛 Shipping and returns

2 -5 business days depending on your location. Order before 2PM local time for same day processing.

FREE (US Only*) $75 and above. Shipping starts at $5 for orders below $7.00 and $7 for orders below $75.

Order before 12PM for next day delivery.

Worldwide Shipping is calculated at check out and includes duties and taxes.

💛 30-Day Returns

With Cali's happiness guarantee, you've got 30 days from the delivery date to return books purchased at www.calisbooks.com in unused condition. No questions asked! Shipping costs are non-refundable.


* Free shipping applies to Continental USA and does not apply to United States AK and HI
🏆 Lifetime warranty

100% warranty against defects for a lifetime. 🥳

We're all about creating that lifelong bond and growing up with your family!

Books can be replaced for ANY reason. Includes chewed, drooled on, ripped, driven over, flushed, or anything else your children or pets can find to do to damage the book. 🤪

For more info contact us at warranty@calisbooks.com