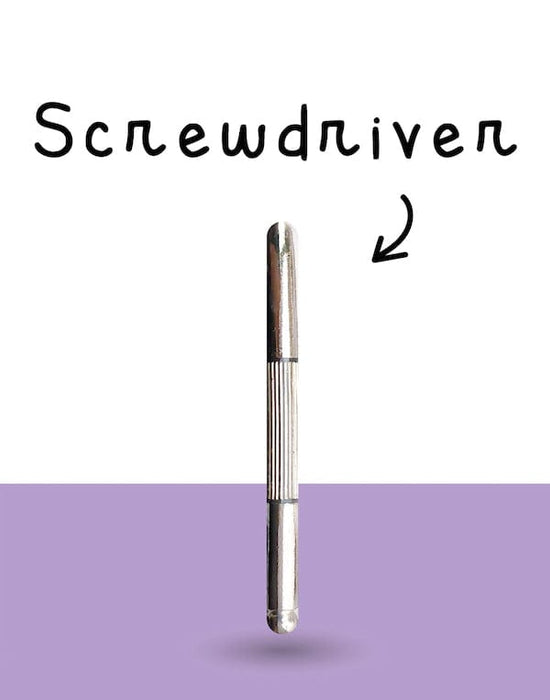 Small and convenient screwdriver to quickly open those small battery covers. Change batteries or open the cover to flip the switch and record your recordable book!
SPEEDY US Shipping
- 2 -5 business days depending on your location. Order before 2PM local time for same day processing.
- FREE (US Only) $60 and above. Shipping starts at $5 for orders below $7.00 and $7 for orders below $60.
- Order before 12PM for next day delivery.
Worldwide Shipping
- We ship worldwide! Shipping costs will be estimated at checkout.

- International orders do take a little longer to arrive than US orders, but we'll do our best to be as speedy as we can!
- Duties, customs, taxes and all other costs associated with receiving the shipment for international deliveries may apply.

HAPPINESS GUARANTEE 💛

- 30 days from the delivery date to return books purchased at www.calisbooks.com in unused condition. No questions asked! Shipping costs are non-refundable.
Lifetime Warranty!! 
100% warranty against defects for a lifetime. 🥳
We're all about creating that lifelong bond and growing up with your family!
- Books can be replaced for ANY reason.
- Includes chewed, drooled on, ripped, driven over, flushed, or anything else your children or pets can find to do to damage the book. 🤪

For more info contact us at warranty@calisbooks.com
❤️ ️Cali's Books support child development and education through play.
💙 Our high-quality books have a great warranty and a responsive customer service.
💚 Our Sound book and recordable book collections help every child grow up with books at every stage of their lives.
💜 We are a family business creating products adapted to ALL families! As a Certified Minority Business that is family run and majority women, we care about how we run our business. Find out more about Cali's Books and family.
💛 We aren't just your average publishing house, we're a big family of book lovers! Join the Cali's Book Club for lots of REWARDS including free batteries and shipping, free drawings, music and audiobooks!