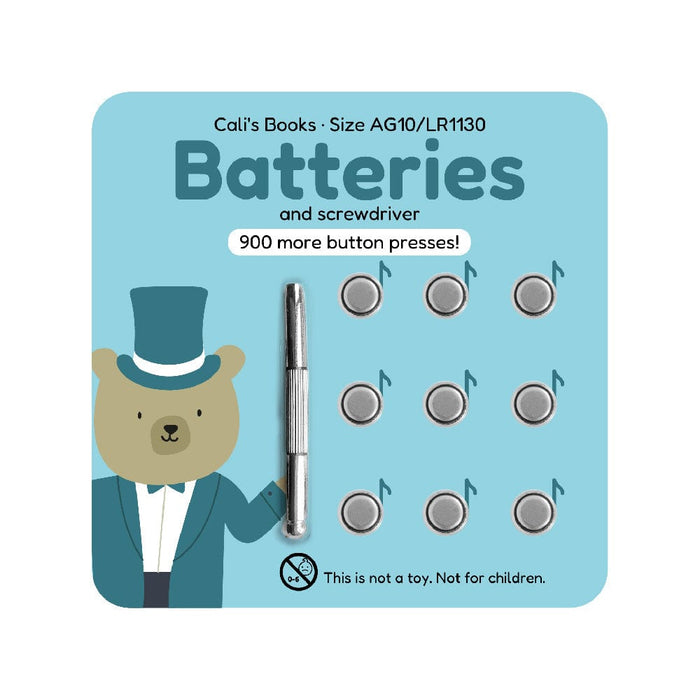 Upgrade your little one's musical adventures with our AG10 Battery Replacement Kit for Cali's Sound Books. Say goodbye to interruptions and hello to non-stop music! Each battery set, carefully selected for our books, ensures a whopping 1 hour and 20 minutes of continuous song playback. That's plenty of button-pushing fun!
The Battery Replacement Kit includes everything you need:
9 Replacement batteries: We provide you with a generous supply of high-quality AG10 batteries to keep the music playing for an extended period.
Teeny tiny screwdriver: We've included a perfectly fitting screwdriver designed specifically for our books, making battery replacement a breeze.
❣️ Please note that these batteries are specifically designed for use with this collection of Cali's Sound Books. To ensure compatibility, always check the battery case and compare it with the images provided. 
If you're unsure about which batteries to purchase for your Cali's Book, simply flip it over and inspect the back. If the battery compartment matches the one shown in the picture, you're in the right place! For books with a different battery configuration, we recommend checking out our CR2032 battery kit.
Upgrade your child's musical experience today with our AG10 Battery Replacement Kit. Let the music play on!
SPEEDY US Shipping
- 2 -5 business days depending on your location. Order before 2PM local time for same day processing.
- FREE (US Only) $75 and above. Shipping starts at $5 for orders below $7.00 and $7 for orders below $75.
- Order before 12PM for next day delivery.
Worldwide Shipping
- We ship worldwide! Shipping costs will be estimated at checkout.

- International orders do take a little longer to arrive than US orders, but we'll do our best to be as speedy as we can!
- Duties, customs, taxes and all other costs associated with receiving the shipment for international deliveries may apply.

HAPPINESS GUARANTEE 💛

- 30 days from the delivery date to return books purchased at www.calisbooks.com in unused condition. No questions asked! Shipping costs are non-refundable.
1 Year US Warranty!! 
100% warranty against defects for a one-year period.

Lifetime half-price replacement 🥳
We're all about creating that lifelong  bond and growing up with your family!

- Books can be replaced for ANY reason for half the price!

- Includes chewed, drooled on, ripped, driven over, flushed, or anything else your children or pets can find to do to damage the book. 🤪

For more info contact us at warranty@calisbooks.com
❤️ ️Cali's Books support child development and education through play.
💙 Our high-quality books have a great warranty and a responsive customer service.
💚 Our sound book and recordable book collections help every child grow up with books at every stage of their lives.
💜 We are a family business creating products adapted to ALL families! As a Certified Minority Business that is family run and majority women, we care about how we run our business. Find out more about Cali's Books and family.
💛 We aren't just your average publishing house, we're a big family of book lovers! Join the Cali's Book Club for lots of REWARDS including free batteries and shipping, free drawings, music and audiobooks!